Awning FAKRO VMB Solar
Awning FAKRO VMB Solar
Marquise screen VMB SOLAR for vertical woodwork. A marquiseau has a movable, reclining beam??. Thanks to the development of the marquise we have access to the external window sill. Are assembled outside in windows and doors (terrace and balcony)




Order over GBP 190, the parcel will be FREE.
The cost of shipping orders worth up to GBP 190 is GBP 8.99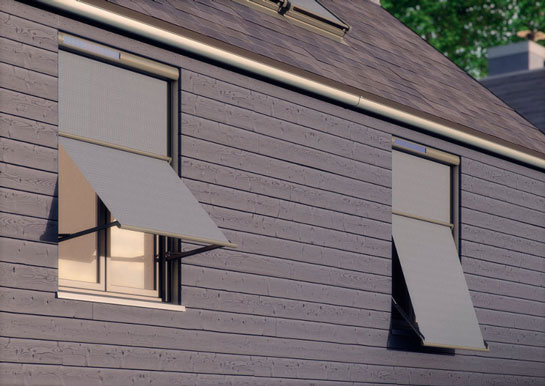 Perfect match
A wide range of colors of materials and profiles makes it possible to perfectly match the awning blind to any type of building facade.
The awning blind is an optimal solution as protection against excessive solar heat. It absorbs solar radiation already in front of the glass and emits heat outside, which on sunny days protects the interior very well against troublesome heat. The awning protects the room up to 8 times better compared to the interior covers, which in practice causes a decrease of the room temperature by 10 ° C.
We manufacture all awning blinds to size, thanks to which they are always perfectly matched.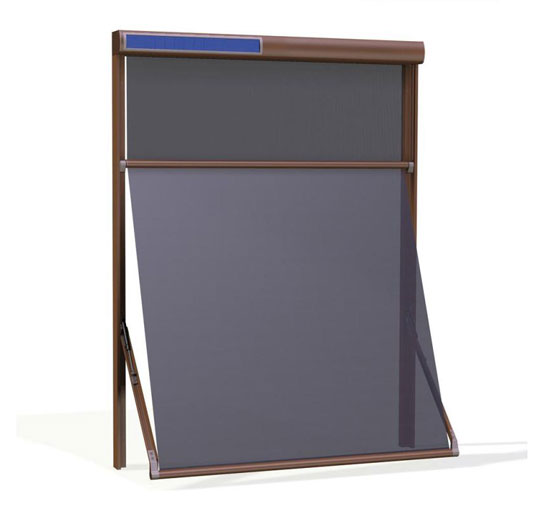 High quality materials
The VMB awning blind is made of durable, weather-resistant PVC-coated glass fiber fabric. This fabric is rolled up on a shaft with a motor and housed in a cassette made of aluminum profiles mounted to the window or to the external cavity. A zip tape is embedded in the edges of the fabric, which maintains its proper tension between the guides and prevents the fabric from falling out of the guides. Such a fabric-profile connection increases its wind resistance and prevents insects from entering the interior. This solution withstands wind gusts up to 120 km/h, and side winds up to 220 km/h.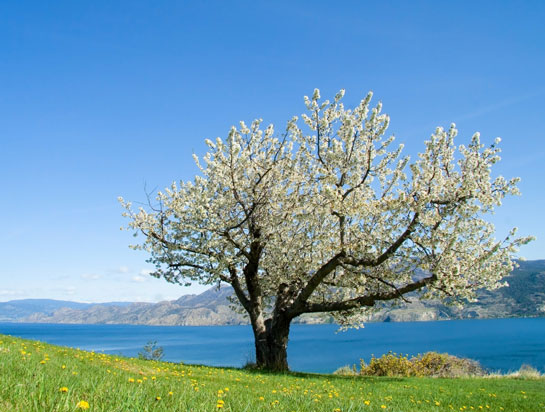 Ecology
The awning reduces energy consumption in air-conditioning devices. We don't have to pay high electricity bills. The Solar awning blind does not consume energy from the electricity network, it is powered by a battery charged with solar rays. Buildings are the largest producer of carbon dioxide (40% share in the global volume). The use of external awnings helps to reduce CO2 to the atmosphere.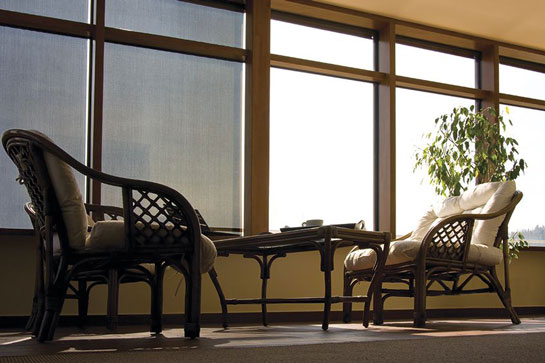 The supply of natural light
Windows covered with awnings, unlike external blinds, allow the inflow of natural light. Awnings let sufficient light through to not use additional lighting.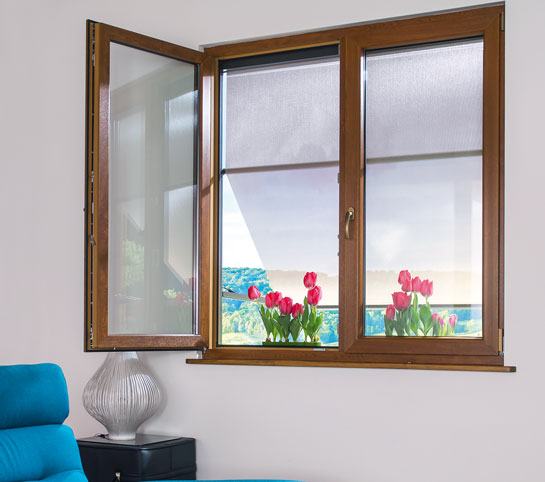 Outside view
Awnings effectively shade the interior, while ensuring visibility outside. The room is bright enough. There is no need to turn on the lighting as it would be if the internal or external blinds were taken. What's more, the awning has a clearance that does not obstruct the view outside, and on the other hand provides us with privacy by protecting from the eyes of neighbors.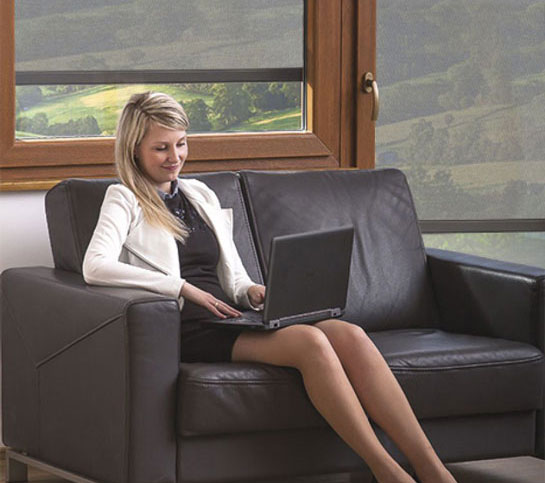 Improving ergonomics
With the awning pulled down, the light distribution in the room is even and even more friendly to human eyes. There are no harmful reflections when working at the computer or watching TV, so awnings are very useful in the rooms where we work.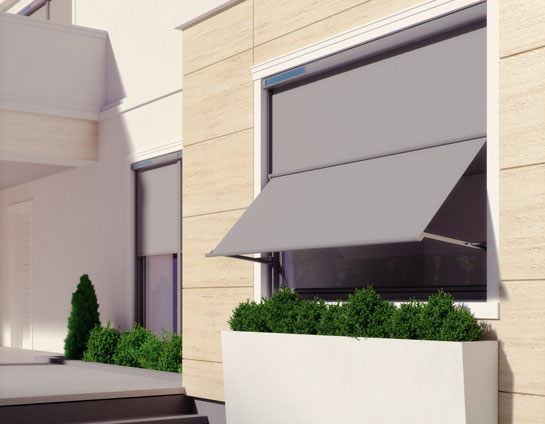 Protection against harmful UV radiation
The awning reduces the penetration of harmful UV radiation into the interior of the room. A raised awning helps protect objects and materials in the interior from harmful UV rays that cause them to discolor.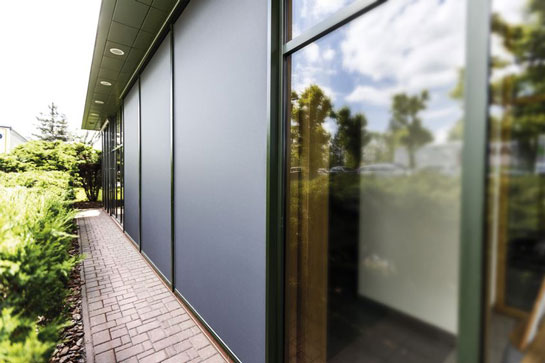 Comments
Awning profiles and awning blinds are available in four colors (white, gray, brown and black).
On request, we can paint awning profiles in any color from the RAL palette.
There are seven types of material to choose from: (five with 10% relative clearance and two with 1% clearance).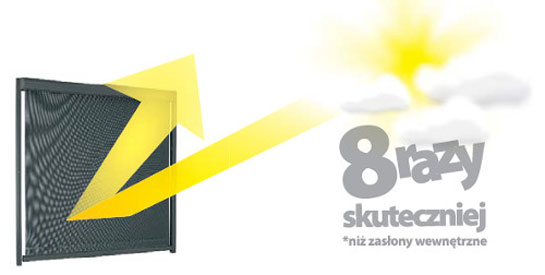 8 times more effective
Markizy montowane są na zewnątrz okien dlatego skutecznie chronią wnętrza domów przed nagrzaniem. Z przeprowadzonych przez firmę FAKRO badań wynika, że są one do 8 times more effectivesze niż powszechnie stosowane rolety wewnętrzne, które zwykle zasłaniają ostre światło słoneczne. Markizy absorbują promienie słoneczne już przed szybą i emitują ciepło na zewnątrz chroniąc w ten sposób przed nagrzewaniem wnętrza. Norma DIN 5034-1 mówi: "Pomieszczenia należy chronić przed nagrzewaniem w okresie lata w miarę możliwości za pomocą zewnętrznych osłon, umiejscowionych przed szybą, odbijających ciepło".
Check how to measure the window correctly so that the awning fits perfectly.