The knall online store offers two Curtain systems: for tubular curtain rods and microflex curtains.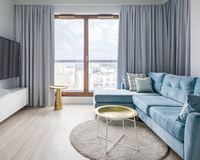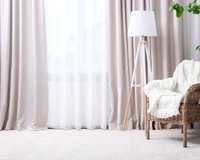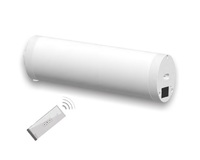 Curtain on rings
Tubular curtain rods are the most classic way to hang decorative curtains. They are placed above the window. They are characterized by high quality and minimalist design. They support the fabric of the curtains, and at the same time blend in with it thanks to the classic colors. It is natural that, on a daily basis, curtains can often be sliding and sliding; therefore, you should measure the length when buying them. Optimally they should end about 1.5 cm above the floor.
Buy now
Microflex curtain
Microflex is an innovative way of arranging curtains, they have permanently sewn in small plastic hooks, which ensure that the material is always pleated at equal intervals. Because in everyday use it is natural that curtains can often be moved and moved, when buying them you should measure the length accordingly. Optimally they should end about 1.5 cm above the floor.
Buy now
Exploring the Art of Curtain Selection: From Novelty to Classic Elegance. Which style is for me?
When it comes time to choose curtains for the interior of the house, whether it is a bedroom, living room or children's rooms, we can face a difficult task. The abundance of patterns, colors and styles makes us feel lost. Remember, however, that the curtains have not only a practical function, protecting against excess sunlight, but also an aesthetic one, introducing an atmosphere of coziness to our interior. Modern curtains often combine these two functions, offering both style and comfort. Fashionable curtains with geometric patterns, made of thicker fabrics, can add character to any interior.
Ready-made curtains available in our store are practical and easily adapt to various interiors. However, remember that the choice of curtains is not limited to style and color. Proper suspension is also important. For example, Mikroflex curtains with shirring tape are easy to install and guarantee even creasing. Depending on your preferences, you can also opt for traditional frog curtains, which give you the option of adjusting the length of the curtain, or curtains with suspenders, which give a more formal and elegant look.
What is the color issue?: From Gray Curtains To Pink Accents
When choosing curtains, the issue of color cannot be overlooked. The color of the curtains can influence the feeling of space in the room, the mood, as well as the level of privacy. Gray curtains are universal and easily harmonize with different interior styles. Thanks to this, gray curtains are very popular not only in living rooms, but also in bedrooms or kitchens.
At the other end of the spectrum, there are pink curtains that can add warmth and a hint of romance to the interior. Pink curtains can be a great addition to children's rooms, but they can also add a touch of glamor to a living room or bedroom. Of course, the choice of curtain color depends on personal preferences, but also on the style of the interior with which they should harmonize.
Novelties and classic elegance: How to choose curtains Perfect for your interior?
When you want to give your living room character, choose curtains that will emphasize the style of the interior. Our offer includes curtains ready to be cut and produced to size in various shapes and colors, which means that you will definitely find something for yourself. Modern curtains with geometric patterns are a real novelty that attracts attention. Thanks to them, you can introduce a bit of modernity to your living room. Fashionable curtains with botanical motifs, such as leaves or flowers, will also work in children's rooms, giving the room freshness and lightness.
Gray curtains are a classic that never goes out of fashion. They are extremely easy to hang on a curtain rail and blend in perfectly with other elements of the interior. If you want something softer, choose transparent curtains or airy curtains that will gently let the light in, creating a pleasant atmosphere in the living room.
What is the practical solution for every interior? - Curtains ready on the curtain rod
Regardless of whether you prefer curtains with frogs or hooks, in our store you will find curtains that can be easily hung on a curtain rod. Practical curtains are the perfect solution for people who value comfort and ease of assembly. We offer many models, including curtains for the living room in various colors and patterns. For example, velor curtains are a real novelty that will add elegance to any living room.
Pay attention to our curtains with botanical motifs - leaves and flowers will add character to any interior. They are light and airy, perfect for summer. Thanks to them, you can create an atmosphere of relaxation and peace in your living room. On the other hand, if you are looking for something that will add privacy to your place, gray curtains can be the perfect solution. In combination with curtains, they will create a complete finish for your window.
We ensure that everyone will find something for themselves in our assortment. Don't forget to subscribe to our newsletter to stay up to date with the latest trends and receive information about promotions and discounted products. In this way, you will always have the opportunity to buy the products you like at an attractive discount. We encourage you to use our offer!
Curtains ready for the living room: Can modern and practical go hand in hand?
Our range of modern curtains ready for the living room is a real novelty. We offer a wide selection of curtains with geometric patterns that are extremely easy to hang. Thanks to their unique pattern, these curtains will bring a modern and fresh look to your living room interior. In combination with well-chosen curtains, they will create a complete window finish.
Curtains with botanical motifs are another novelty in our assortment. They are available in both classic and modern colors. Thanks to this, everyone can find something for themselves. Botanical motifs will make the interior of the living room a place of relaxation and rest. Thanks to the use of light and light-transmitting materials, these curtains are perfect for both the living room and the bedroom.
What are the best window coverings? - Choose ready-made curtains and enjoy comfort and privacy
Modern curtains ready for production to size from our store are products that are extremely easy to hang on a curtain rod. Thanks to the use of the Mikroflex system on the tape, clips or hooks, ready-made curtains are extremely easy to assemble. Do you care about privacy? Choose curtains made of heavier materials that effectively cover the window and provide you with a sense of intimacy.
Of course, in addition to curtains for the living room, we also offer curtains that are perfect for the bedroom. The choice of colors makes it easy to adapt the curtains to the style of your interior. Both curtains with geometric patterns and those with botanical motifs will work great in any room.
To stay up to date with the latest trends and receive information about discounted products, we invite you to subscribe to our newsletter. We guarantee that thanks to this, you will be able to take advantage of an attractive discount on products that you like.
Curtains
Decorative curtains are the most traditional way of covering window spaces. Modern curtains combine the functions of curtains - light and transparent materials with the function of curtains - blackout curtains made of thicker and heavier material. The fabrics used for sewing are natural. In interior decoration projects, curtains appear more and more often. They work very well in a large space with windows occupying the entire surface of the wall. If, however, the curtain is to appear in a smaller room, it is worth choosing a lighter and bright material so that the whole thing does not visually reduce the interior. This product, unlike roller blinds or blinds, does not fit into the window frame. While surrounding the window, it also takes up space around it, so in smaller rooms it is worth focusing on a light color and smooth, light fabric. Made-to-measure curtains will allow you to adjust to any size of the window, moreover, when ordering, you also choose the color and type of material. In this way, the whole is matched not only to the size of the room and the window (even with non-standard dimensions), but also to the entire interior styling. The amount of the order, depending on its parameters, appears in the left corner, at the bottom of the page. Cheap ready-made curtains, on the other hand, are an ideal product for people whose windows have a standard size at home and do not require separate measurements. Modern curtains very well complement the styling of interiors designed in minimalist styles, in which designers are eager to use natural fabrics. Currently, the systems can be equipped with electric control, and ready-made methods of fastening the material are the standard solution.
The division includes two product groups:
Curtains for tubular curtain rods on grommets (rings)
Mikroflex curtains on rails
The division concerns the method of fastening the fabric.
Curtains for tubular curtain rods on grommets
is a classic way of hanging decorative curtains. Special rings (grommets) are sewn into the fabric, their color can be selected when ordering. The curtains on the grommets are arranged in decorative folds because the rings are arranged at regular intervals. This method of fastening the fabric will work with different sizes of curtains and with different types of fabric (even the more delicate ones). The rings slide slightly on the curtain rod, you don't have to put your strength into it and pull the material. After spreading or sliding, it is enough to gently move your hand over the material to arrange the folds nicely.
Zasłony Mikroflex na szynach
(or hook curtains) have small hooks permanently sewn in to keep the fabric evenly pinned; here you can choose different ways of pinning. This solution allows you to keep the material evenly arranged, no matter how many times the curtains will be opened and closed. Flex curtains on hooks are therefore an ideal product, e.g. at terrace doors, which are often used in the summer. The fabric moved by the wind (if we do not want to completely reveal the door and heat the interior) or it is often moved away - the curtains on hooks will remain perfectly arranged all the time. An innovative solution are curtains with an electric drive. Electric curtains are primarily a great facilitation in closing and moving, which is especially important with large sizes of decorative curtains. It is also worth noting here that the electric curtain rod can run in an arc. In this solution, the fabric of the curtain on the ceiling rail is pinned at equal intervals, and the entire system is equipped with the so-called soft start and stop, which prevents unsightly swaying of the fabric when the drive is stopped. Curtains on rails are also very aesthetic and elegant - the curtain rod is hidden and the motor is small. Decorative curtains are perfect for all rooms, matching their function and style in which they are decorated. Curtains pinned up will decorate the interior both pushed together and apart. The color of the fabric is matched to the whole decor, but its color may also depend on the function of the room and its size. Curtains for the living room usually have a light and lighter fabric, so that by shielding the room from the sun, they do not completely cut off the influx of natural light, and at the same time give the room space. A similar rule applies to smaller interiors - it is better to use light and smooth fabrics that will not make them optically smaller. In turn, for example, in the bedroom, it is better to use blackout curtains, i.e. with thicker (often also darker) fabric that will darken the interior during the night rest or nap.