From very quiet operation, soft start and stop, to the memory function, stop on resistance and start by pulling the curtain rail pole.
KNALL provides an extraordinary experience with each use.
Electric curtain rail pole Knall
Introducing the pinnacle of home automation and aesthetic brilliance: the Electric Curtain Rail Pole Knall. Meticulously engineered using cutting-edge technology, this game-changing innovation redefines the boundaries of window covering solutions. Crafted from aerospace-grade aluminum, the rail pole is both lightweight and exceptionally robust. Its powerful yet whisper-quiet motor effortlessly glides curtains along a seamlessly integrated track, capable of supporting even the heaviest of draperies. Advanced wireless connectivity options enable full integration with smart home systems, offering users the luxury of voice or app-controlled operation. Embedded sensors detect ambient light and temperature, autonomously adjusting the curtains to optimize energy efficiency and comfort. Equipped with anti-collision features, the motor instantly halts should it encounter an obstacle, ensuring the integrity of the curtain fabric. Revel in the seamless marriage of form and function; where craftsmanship meets intelligence, the Electric Curtain Rail Pole Knall stands unparalleled. Check more:
Electric curtain rail poles
Electric curtain rail poles KNALL - product characteristics
Electric curtain rails are a product that meets the needs of modern interior finishing methods - they combine a tasteful appearance and comfort of use. The curtain rod itself is an essential element when windows are to be covered with decorative curtains. In modern construction, windows are designed in larger, often non-standard sizes. In addition, glazing can form entire walls. The designs also include windows with non-standard shapes. Electric curtain rails are perfect for large windows, when both the size and the resulting weight of the curtain fabric need to be properly supported. In addition, electric curtain rails can have the shape of an arch, which allows you to cover the windows that form glass walls.
Large glazing nicely illuminates the interior, making it more spacious and full of light. However, the interiors heat up quickly and are very well visible from the outside (especially if the light is on inside). That is why it is worth ensuring intimacy and comfort. Decorative curtains, which also function as curtains, require appropriate pinning up. They should also slide and slide easily. It is not difficult to do with smaller areas of the fabric. However, in more spacious interiors or in rooms, e.g. connecting the kitchen with the living room, the surface of the curtain material becomes large, and therefore also heavy.
Electric curtain rails will keep a large area of the curtain and make it easier to slide. The electric drive is quiet and easy to control with a remote control. The mechanism is practically invisible, so it will not disturb the aesthetics of the whole.
Advantages of electric curtain rails
Electric curtain rails facilitate the daily use of curtains and decorative curtains. The electric drive they are equipped with is controlled by a remote control, via apps or manually in an emergency. Applications for the automatic control of curtain rods are: Google assistant, Android, IOS and Alexa Amazon. This solution fits in with the general assumptions of the so-called "Smart homes". These solutions are designed to facilitate the use of home appliances.
Electric curtain rails are designed in such a way that they can be installed in a straight section as well as in a curve. In this way, the entire interior will be aesthetically covered. This solution works very well not only in residential houses, but also in hotels and conference rooms.
A curtain rod is an indispensable piece of equipment for decorative curtains. The choice of curtain materials is extensive so that they can also function as curtains. Thicker and non-transparent fabrics will shade the interior and completely shield it from the view from the outside. Light and transparent materials as curtains will cover the room, but at the same time let natural light into them. Electric curtain rails allow you to control two rows of covers. Thus, it is possible to cover the windows with curtains and curtains and control them in both layers by means of an electric drive.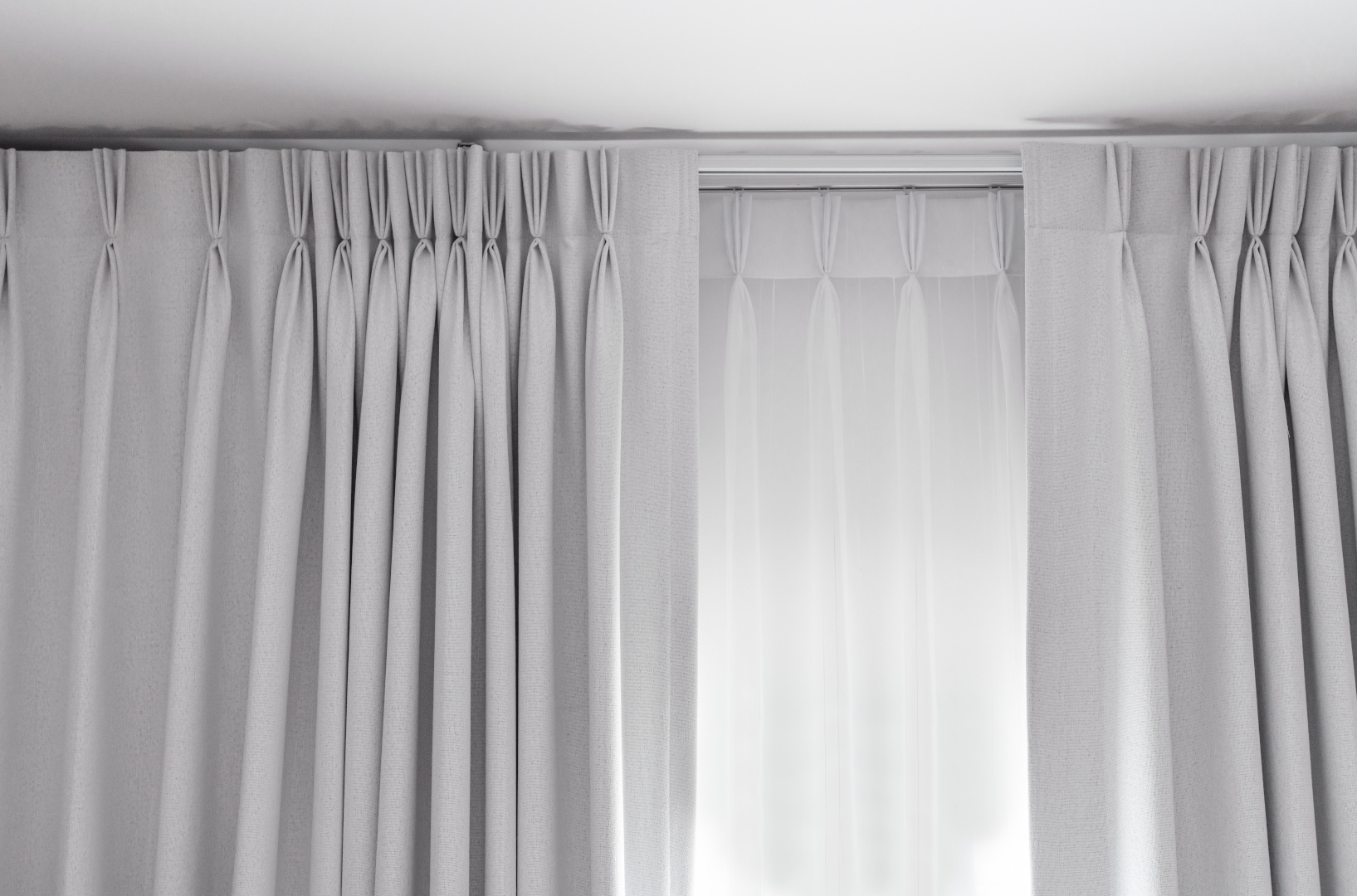 The Comprehensive Guide to Curtain Rail Poles: Everything You Need to Know
Introduction
When it comes to adding the final touch to your window treatment, nothing says "complete" quite like the perfect curtain rail pole. Whether you're in search of a modern curtain rail pole, or something more traditional, this guide will cover all you need to know. From curtain rail pole types and designs to choosing curtain rail poles that align with your aesthetic, we'll explore all facets of this overlooked, but crucial, part of home decor.
How to Hang Curtain Pole?
Location is Key
The first step in installing your curtain rail pole set is determining the ideal location. Positioning your curtain rail pole 10-15 cm above the window creates an illusion of taller windows, thus making your room appear more spacious. Moreover, you want to extend the curtain rail pole at least 10 cm or longer on each side. This allows natural light to enter unobstructed when the curtains are opened.
Tools and Installation
Your next consideration is the tools required. Since each window cover system is designed to be easy to install, you can effortlessly set up your stylish curtain rail pole without any specialized knowledge. Depending on the curtain rail pole fittings included, you might need a basic set of tools like a drill, screws, and wall plugs. Make sure to refer to the specific installation guidelines to ensure a smooth setup.
What's the Longest Curtain Pole You Can Buy?
Length Matters
The longest curtain rail pole available for purchase in one go is 3 meters. If your windows span a greater width, fear not! Curtain rail pole connectors are available to seamlessly join two or more poles. This technique is particularly useful for creating a layered curtain look, or when installing a curtain rail pole set across a larger space.
Extendable Curtain Rail Poles
If you're unsure about the length you need, opt for an extendable curtain rail pole. These are designed to be adjustable and provide greater flexibility. So, you can easily adapt your curtain rail pole to different window sizes without the need to buy a new one. These poles are often made of durable materials, ensuring longevity.
Where to Buy Pole Eyelet Curtains?
In-store Vs Online
While some people prefer to touch and feel curtain fabrics in a physical store, there's also the option to buy curtain rail pole online. Online stores often have a larger variety and offer the convenience of shopping from home. Curtain rail pole offers available online are often more competitive, so it's worth exploring both avenues.
Benefits of Buying Online
Buying curtain rail pole online provides you with an array of options that are not limited to geographic locations. From modern curtain rails to stylish curtain poles, everything is available at the click of a mouse. This is also where you can find a stock curtain rail pole in rare dimensions, not commonly available in brick-and-mortar stores.
Differences Between Our Curtain Rail Pole and a Classic Rod Pole?
Modern Functionality
Our curtain rail pole sets are crafted using high-quality European components. This differentiates them from traditional rod poles in terms of both quality and functionality. For example, modern curtain rail pole designs often include built-in mechanisms for smoother sliding, making it easier to draw curtains.
Stylistic Versatility
Unlike classic rod poles, our chic curtain rail poles come in a variety of designs. Whether you're looking for a chrome curtain rail pole or one with a satin finish, the options are endless. Our selection is curated to suit different interior styles, from traditional to contemporary, ensuring you find a piece that elevates your decor.
A Guide to Curtain Rail Pole Types
Standard Vs Specialized Poles
When choosing curtain rail poles, you'll find that they come in various types. Standard curtain poles are versatile and can support a wide range of curtain styles. On the other hand, specialized poles like those designed for pencil pleat curtains pole give your window a more tailored appearance.
Material Choices
Metal curtain poles, such as chrome curtain rail poles, offer a sleek and modern touch. They glide smoothly and are easy to clean, making them ideal for most contemporary homes. Wooden poles provide a rustic touch, perfect for homes with a more traditional aesthetic.
Curtain Rail Pole Designs and Aesthetic Choices
Elegance in Design
Curtain rail pole designs range from the simple to the elaborate. If you're going for a minimalistic look, you might prefer a plain curtain rail pole wire. For a more intricate appearance, you can opt for poles with detailed finials.
Choosing the Right Design
When choosing curtain rail poles, consider the overall look you want to achieve. For instance, a chrome curtain rail pole would complement a modern interior, while a wooden pole might suit a more traditional setting. Don't forget to also think about curtain pole designs that match your existing decor.
Curtain Rail Pole Fittings and Accessories
All About the Details
Your curtain setup is not complete without the appropriate curtain rail pole fittings. This includes everything from curtain brackets to curtain rod ends. These small yet vital components hold the entire setup together.
Stock vs Measure Curtain Rail Pole
While stock curtain rail poles are readily available in standard sizes, you can also opt for a measure curtain rail pole. Made-to-measure options provide a personalized touch and are ideal for windows with non-standard dimensions.
Curtain Rail Pole Offers and Deals
Bargain or Investment?
Everyone loves a good deal, and curtain rail pole offers can provide significant savings. However, it's essential to balance cost and quality. Investing in a high-quality curtain rail pole set can offer better longevity and performance in the long run.
Where to Find Offers
Keep an eye out for seasonal sales, both in physical stores and online. Signing up for newsletters from your favorite home decor websites can also keep you informed about any upcoming curtain rail pole offers.
Curtain Rail Tracks Vs Poles & Tracks
What's the Difference?
Curtain rail tracks are often confused with curtain rails or poles & tracks. While both serve the same purpose—to hang curtains—they do so in slightly different ways. Curtain rail tracks are generally less visible than poles, offering a more streamlined look.
Choosing Between the Two
Choosing curtain rails or poles & tracks largely depends on your aesthetic preference and the type of curtain you're hanging. For heavy, lined curtains, a robust curtain rail pole is often the better choice. Lighter fabrics might be better suited to curtain rail tracks.
Curtain Rods, Poles, and Diameter: What You Need to Know
Curtain Rods Explained
A curtain rod is essentially another term for a curtain pole. When looking for curtain rods, the diameter of the pole is an essential consideration, especially for eyelet curtains. A 28mm diameter curtain pole is generally ideal for the smooth gliding of these curtain types.
Picking the Right Diameter
The diameter curtain pole you choose also has an impact on the curtain's overall look. A thicker pole can give a grander feel, while a thinner pole may suit a more minimalistic setting.
How to Choose Curtain Brackets?
Material and Design
Choosing curtain brackets that match your curtain rail pole is crucial for a cohesive look. Brackets come in a variety of materials, from metal to plastic, and in several designs to match your poles.
Load-Bearing Considerations
When choosing curtain brackets, ensure they can bear the weight of both the curtain and the pole. The heavier your setup, the more robust your brackets need to be.
---