JAMAICA patio awning PREMIUM without cassette
JAMAICA patio awning PREMIUM without cassette
Terrace awnings of a high standard, designed for installation on the facade




Order over GBP 5000, the parcel will be FREE.
The cost of shipping orders worth up to GBP 5000 is GBP 29.90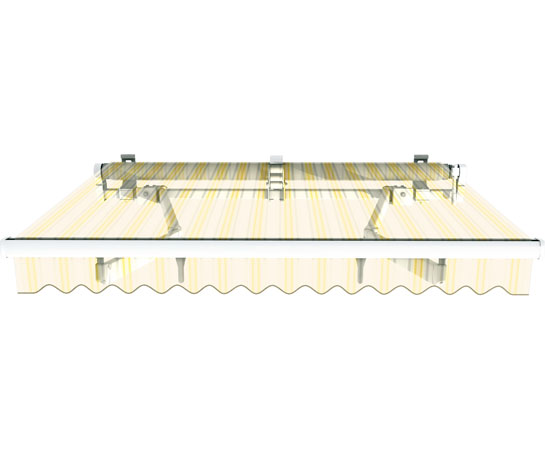 Perfect match
PREMIUM without a cassette is a combination of elegance and durability. Its design ensures long life under heavy use and is therefore the perfect choice for large terraces and commercial spaces. The folding arms of the awning are mounted on aluminum handles with a special design, made by numerical processing. The use of Flyer chain in the construction of arms in conjunction with the precision of articulation provide the awning with reliable, long-term operation.
All our awnings are made to measure, thanks to which they are always perfectly matched.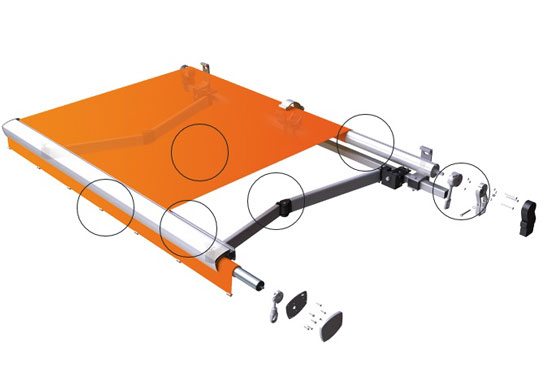 High quality materials
Thanks to the central support of the roller tube, the fabric is always evenly tensioned in large awnings. The construction is based on an aluminum square beam, which gives some freedom in choosing the mounting place of the handles and makes the awning very easy to install. An optional aluminum visor provides protection for the rolled up fabric. The awning's structure is powder-painted in white, silver with graphite, beige or brown. The cross arms kit can be used. All acrylic awning fabrics are impregnated with TEFLON or SCOTCHGARD. This creates an excellent protective barrier and strengthens the hydrophobic properties of the fabric and, to some extent, prevents dirt from adhering to the material.
.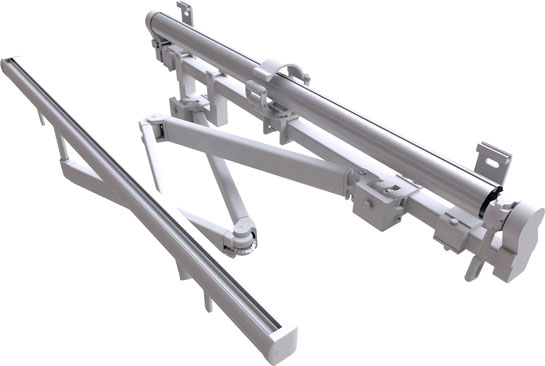 Properties
Construction made of extruded aluminum
Flyer chains in his arms
Square support beam
Winding tube support for large widths
The visor can be fitted with a cover
rolled up fabric against weathering
The support beam makes mounting the system easy
It is possible to use cross arms
Simple operation using full automation
Possibility of using telescopic supports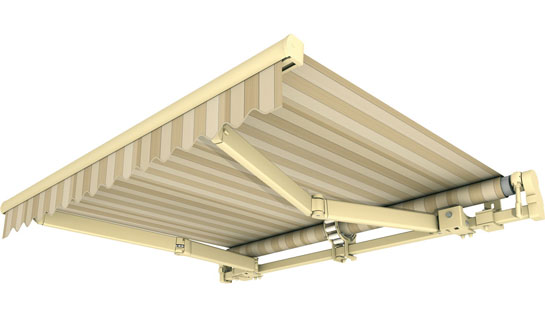 Characteristic
CASSETTE missing
ROLLER PIPE 70 mm and 80 mm diameter
MOUNTING the wall, ceiling, roof rafter
HEIGHT 1.6m; 2.1m; 2.6m; 3.1m; 3.6m; (with a maximum awning width of 7 m.)
MAXIMUM WIDTH 7.0m
Folding arms, aluminum, with springs and a Flyer plate, leveling of folded arms, in the case of cross arms, minimum width - 0.4m
CROSS SHOULDERS yes
TILT ANGLE 5 ° ~ 40 ° for self adjustment
CONSTRUCTION COLOR powder varnish: white, beige, bronze, silver + graphite, graphite
SEWING over 100 designs
HAND DRIVE crank
AUTOMATIC DRIVE motor, motor with manual winding, remote control transmitter, wind and solar weather automation
FALBANA standard height 21cm (± 0.5cm), shape according to the specimen, maximum height 40cm (valance type "C" and "D") maximum height 50cm (valance type "E" )
How to order?
It is incredibly easy to buy in the knall shop. Just fill in the required parameters of the product and add it to the cart. In order not to make a mistake, it is best to follow our instructions, which are under the question marks in the upper right corner of each checkbox. Before adding a product to your cart, you can always see its current price under the central photo.
similar products