VELUX PAL manual venetian blinds
VELUX PAL manual venetian blinds
VELUX blinds are made of aluminum, rotation of the slats makes it possible to control the incoming light.




Order over GBP 5000, the parcel will be FREE.
The cost of shipping orders worth up to GBP 5000 is GBP 29.90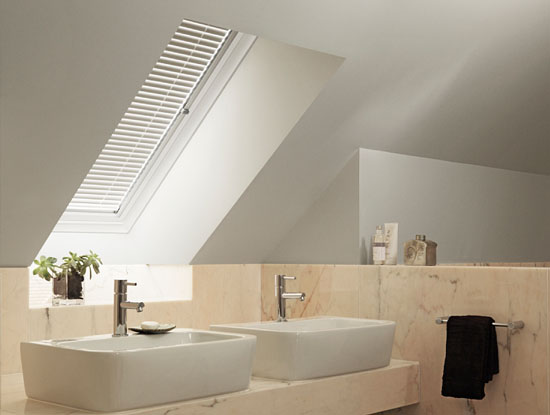 VELUX venetian blinds
VELUX venetian blinds allow you to control the angle of incidence of light and provide protection from outside views. They offer many possibilities of cover - from the blackout effect through the selection of different angles of incidence of light, even to fully revealing the window. Narrow side guides, blind leaves without holes and a mechanism without hanging cords make the venetian blinds look modern and elegant. They are made of alumnium, which makes them easy to clean and works well in rooms with high humidity, such as a kitchen or bathroom.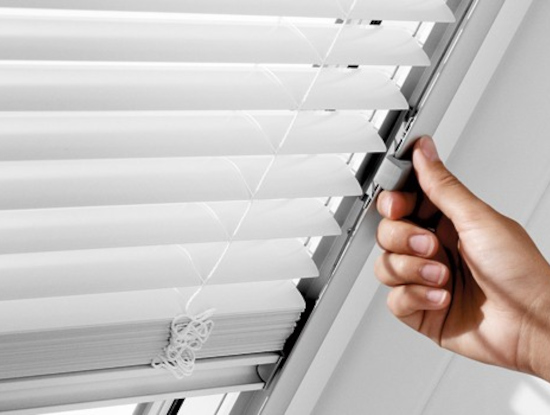 Manual operation
Manually operated venetian blinds are extremely easy to use. Unlike traditional blinds, no cords or cables are needed to operate the VELUX venetian blinds.
The position of the venetian blinds is adjusted using the handle at the bottom of the blinds. Just catch the positioning handle and raise or lower the venetian blinds to place them in a convenient position. To adjust the slats and angle reaching the interior of the light, simply slide the slope adjustment handle on the right up or down. The handle can be placed anywhere on the side guide.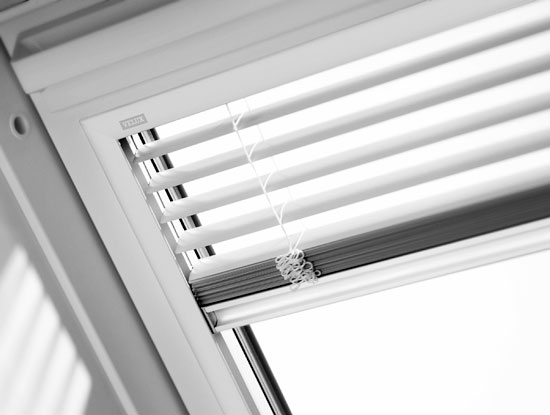 Characteristics:
It is possible to control the angle and the amount of sunlight entering
A simple and well thought-out way of operating the blind: up and down using the elegant bottom rail to adjust the slope inclination - slider on the side
Smooth side guides keep the blind in place
An elegant look with no visible holes in the slats
Easy and quick installation
Improves window insulation by up to 27%
Moisture-proof. Perfect for the kitchen and bathroom.
Łatwa instalacja w kilka minut z systemem Pick&Click!®.
Provides privacy, shielding from outside view.
9 classic colors to choose from.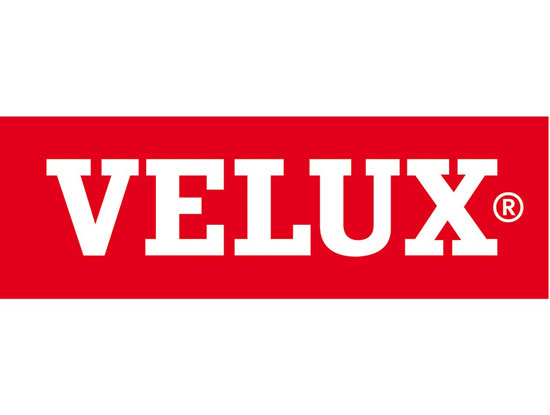 Original VELUX products
VELUX blinds are rigorously tested to ensure their best quality, you will benefit from their excellent operation and resistance to atmospheric effects after many years. Only original blinds are subjected to demanding tests, they are opened and closed thousands of times all to guarantee their highest quality.
Forget about difficulties with operating the blinds. All VELUX accessories are equipped with a unique, ergonomic control panel, thanks to which you can conveniently open the blinds from any angle. our offer includes only original VELUX products.
How to order?
It is incredibly easy to buy in the knall shop. Just fill in the required parameters of the product and add it to the cart. In order not to make a mistake, it is best to follow our instructions, which are under the question marks in the upper right corner of each checkbox. Before adding a product to your cart, you can always see its current price under the central photo.